Don Mueang International Airport
Don Muang Airport has two terminals. Terminal 1 is for international flights and Terminal 2 for domestic flights. Terminal 2 has recently been refurbished and is shiny and modern. Don Muang Airport is Bangkok's 2nd airport and is a hub for domestic flights in Thailand. There are also International departures to regional destinations. and domestic services of low-cost airlines. Air Asia, Nok Air, and Thai Lion Air all arrive and leave exclusively from here.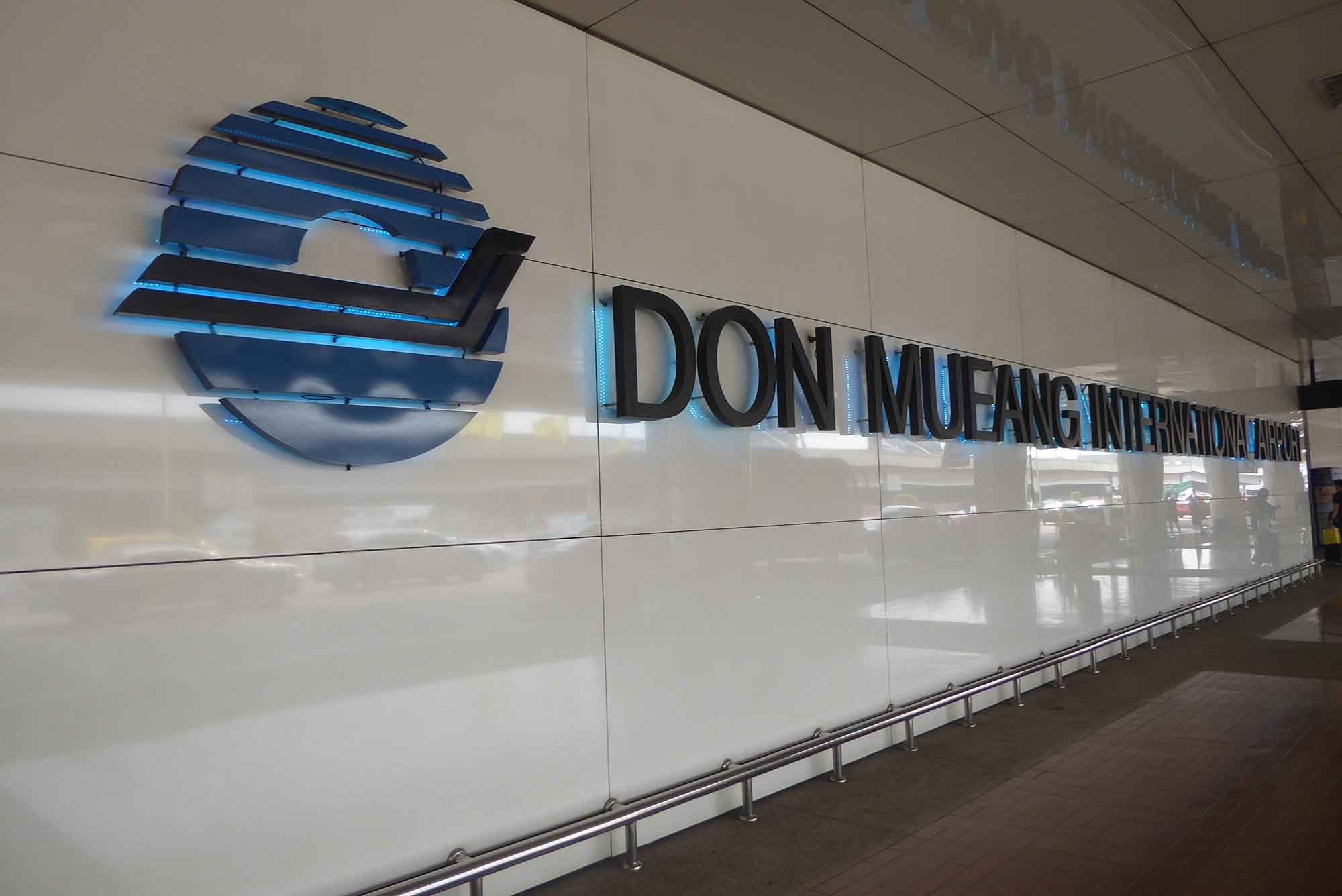 Airport Information & Services
There are Bangkok Airport information counters in both terminals in the arrivals hall. There is a left-luggage office on the 2nd floor of Terminal 1 charging 150 baht per piece per day or 75 baht if less than 24 hours and an AIRPORTELs left-luggage office on the ground floor of Terminal 2 charging 69 baht per day. If you need medical help there is a medical center on the 1st floor of Terminal 1. A post office is on the 3rd floor of Terminal 1 near the Air Asia check-in desks. Free WiFi is available within the passenger terminals and there is a co-working space featuring a lounge, buffet, cafe and fast internet on the 4th floor of Terminal 2 open from 06.00-22.00. The cost is 350 baht for 2 hours (not including food).
Left Luggage
Miracle Co-Working Space
Don Mueang Airport Food Court
There is a good choice of shops, cafe, and restaurants such as Starbucks, Burger King, Subway and McDonald's. There are more restaurants on floor 4. The Don Mueang Airport Food Court is called Magic Garden.
There are three branches, a 24-hour international food court on the 2nd floor, between Terminal 1 & 2. It has a cheap Thai street food style section as well as more expensive fast-food brands.
The second Don Mueang Airport food court is called Magic Garden 1. It's in Terminal 2 on level 3 just inside the car park building past the 7-11 though it is only open from 06.00-22.00. Meals cost 50-80 baht and coffee is 30 baht. It's the cheapest place to eat at the airport.
Magic Curry is a small food court with a single counter exclusively serving pre-cooked dishes with rice. It is 40 baht for one item, 50 baht for two items or 60 baht for three. Water is 10 baht on a par with 7-11 prices. Good value! It is on level 4 of Terminal 2.
There are two 24 hour 7-11s, one in each terminal. The shop in Terminal 2 is on level 3, just before Magic Garden 1.
Airport Hotels & Hostels
The Amari Airport Hotel is opposite the airport and connected to Terminal 1 by a walkway from level 2. The hotel has day rooms, Swimming pool, Fitness center and a Henry J Beans restaurant.
The newly opened Sleep Box is on the 4th floor of Terminal 2 and offers 15 square meter rooms which include air-conditioning, a bathroom, TV, and WiFi. Room rates are 1800 baht a day or 1000 baht for 3 hours and 200 baht for each extra hour and there is a 24-hour cafe. You will also receive a 200-baht food voucher.
Hostels
There are several hostels on the other side of Vibhavadi-Rangsit Road opposite the old domestic terminal. On Choet Wutthakat Soi 9 are Sleep Owl, Sloth, and Ruan Ben Ja.
It's a 10-minute walk to the terminals. I stayed at Sleep Owl and found it to be a good value for money at just over 200 baht. Curtained bed, lounge with TV, outdoor deck, free WIFI, free snacks, and coffee. Beer was 50 baht a can. There is a 7-11 a few minutes walk away and some basic street food.
There are other hotels & hostels near the airport within walking distance, though the above are the nearest ones.
Exchanging Money
There are several Thai banks with exchange booths in both terminals. They all give the same rate so no point in comparing. Rates are slightly lower than what you will get outside the airport but are better than those offered by the major banks at Suvarnabhumi. There is no Super Rich exchange at Don Mueang. There are branches of Krung Thai, Bangkok and Kasikorn banks just outside the ground floor arrivals in Terminal 1 where you will get a slightly better rate than the exchange booths inside. Turn right when exiting arrivals.
ATM's
You will find ATM machines throughout the airport terminals once you have exited immigration and customs.
Thai Sim Cards
You can buy an International tourist sim card after you exit immigration and customs. There are three local service providers. DTAC, True Move, and AIS. AIS and DTAC have counters on the ground floor of Terminal 2 in the passageway connecting Terminals 1 and 2 and on the ground floor of Terminal 1 along with True Move.
Getting into the city from Don Muang Airport
Taxi
Taxis depart from gate 8 in Terminal 1 and from the parking building on the ground floor of Terminal 2. The Airport has a queue management system. You will need to take a Queue ticket from the machine and go to the booth when your queue card number appears on the overhead screen. You will then be directed to your taxi.
The taxis have meters and the fare depends on the distance traveled. There is a 50-baht surcharge added to the fare and the passenger must pay any tollway fees. Service is 24 hours. Make sure the taxi driver turns the meter on and keep your receipt from the taxi stand if you need to complain later.
How much is a taxi to central Bangkok?
Most taxi drivers are honest but some are not. The rough cost of a taxi from Don Mueang to central Bangkok is 250 – 350 baht including surcharge and tollway fee. Don't ask the driver "How Much is the fare" when you get in. This is an invitation for the driver to not use the meter. It means you want to negotiate a price. That price will be more than the meter. The rough cost is quoted above. Taxis from Don Mueang are regulated and must use the meter. Only use the official taxi rank and ignore offers from unofficial touts in the terminal who will try to overcharge you. Grab taxis can not pick up at the official taxi rank. You will have to arrange to meet them somewhere.
Taxi from Don Muang to Pattaya
You can book a direct taxi to Pattaya, or Hua Hin, online in advance. Your taxi will be waiting for you on arrival. For taxi bookings to another destination, you can book online here
Don Mueang Airport Bus
The Don Mueang Airport Bus has 4 routes. Don Mueang to Morchit BTS station (A1), Don Mueang to Victory Monument (A2), Don Mueang to Lumphini Park (A3), and Don Mueang to Khao San Road (A4). Travel is direct via the tollway and is quick. The fare is 30 baht on the A1, A2 and 50 baht on the A3 and A4. Departures are from gate 6 at Terminal 1 and from gate 12 at Terminal 2. Don Mueang Airport Buses leave every 30 minutes. Bus A1 07.30 – 24.00, Bus A2 08.00 – 22.00. Bus A3, A4 07.00-23.00. Buy your ticket on the bus.
Don Mueang Airport Bus Routes
A1 Don Mueang – Expressway – Mochit (BTS) – Morchit 2 (Bus Station).
A2 Don Mueang – Expressway – Mochit (BTS) – Saphan Kwai – Ari – Sanam Pao – Victory Monument.
A3 Don Mueang – Expressway – Din Daeng – Pratunam – Ratchaprasong – Ratchdamri – Lumphini Park.
A4 Don Mueang – Expressway – Chinatown – Lan Luang – Phan Fa – Democracy Monument – Wat Bowonniwet – Khao San Road – Sanam Luang.
Limobus
The Limobus has 2 routes. Don Mueang to Khaosan Road & Don Mueang to Lumpini Park. The buses travel via the expressway.
The fare is 150 baht. Buses leave every 30 minutes from 09.30 until 00.40. The bus departs from between gates 6 and 8 on the ground floor of Terminal 1 and from gate 14 of Terminal 2. Ticket booths at the gates. Free WiFi on the bus. Book tickets to Khao San Road.
Terminal 1 Counter
City Bus
City buses run from bus stops on the main road outside the airport. Some useful routes are …
Bus 29 to Victory Monument & Hualamphong.
59 to Khaosan Road
510 to Victory Monument
555 to Suvarnabhumi Airport
504 to Silom
Limousine
There are AOT Limousine service booths in the arrivals hall of both terminals. These are more expensive than a taxi.
Train
You can catch a train to Hualamphong Station from the Don Mueang station which is opposite the airport. It's accessed via a bridge from floor 2 of Terminal 1. This is useful if you are staying in the Hualamphong or Chinatown districts. You can also catch direct trains to Chiang Mai and other destinations in North and North-Eastern Thailand. You can check timetables, fares and make online reservations here.
Long-Distance Bus
There are no bus services from Don Muang Airport. If you want to travel on by bus to destinations outside Bangkok including Chiang Mai, Phuket, and Hua Hin you can check schedules, fares and make online reservations here.
Car Rental
All the car rental companies have booths in the arrivals hall of Terminal 1 and between gates 10 & 11 on the ground floor of Terminal 2. Thai's drive on the left. You will need a valid International driving license. Check that you are fully insured for any vehicle that you hire.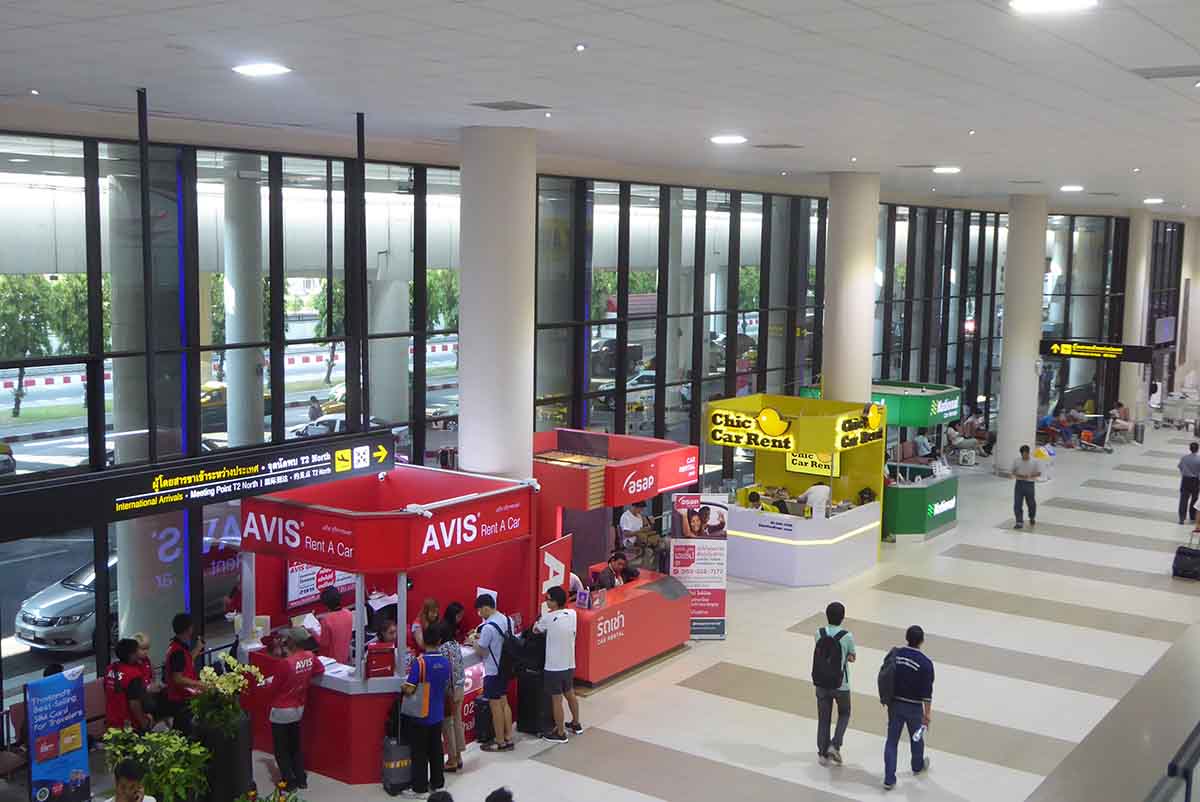 Shuttle Bus to Suvarnabhumi Airport
If you have a connecting flight departing from Suvarnabhumi Airport there is a free shuttle bus departing every 30 minutes from exit gate 5 on the ground floor of Terminal 1. You must show your flight ticket from Suvarnabhumi to use this service. Service hours are 05.00 to 24.00. Taxis from Don Muang Airport to Suvarnabhumi Airport can be booked online here.
Nearby
If you have a long wait for a flight, there is nothing of interest in the immediate area except for Wat Don Muang temple. It is opposite the airport to the right of the Amari Airport Hotel.
Map: