Loy Krathong in Bangkok 2019
Loy Krathong in Thailand is one of the city's most charming festivals. Loy Krathong in Bangkok sees the city's lakes, ponds, canals, rivers and even inflatable paddling pools filled with beautifully decorated, candle lit "boat like" floats known as Krathongs. There are Loy Krathong festival venues all across the city & there is a fireworks display over the Chao Phraya River.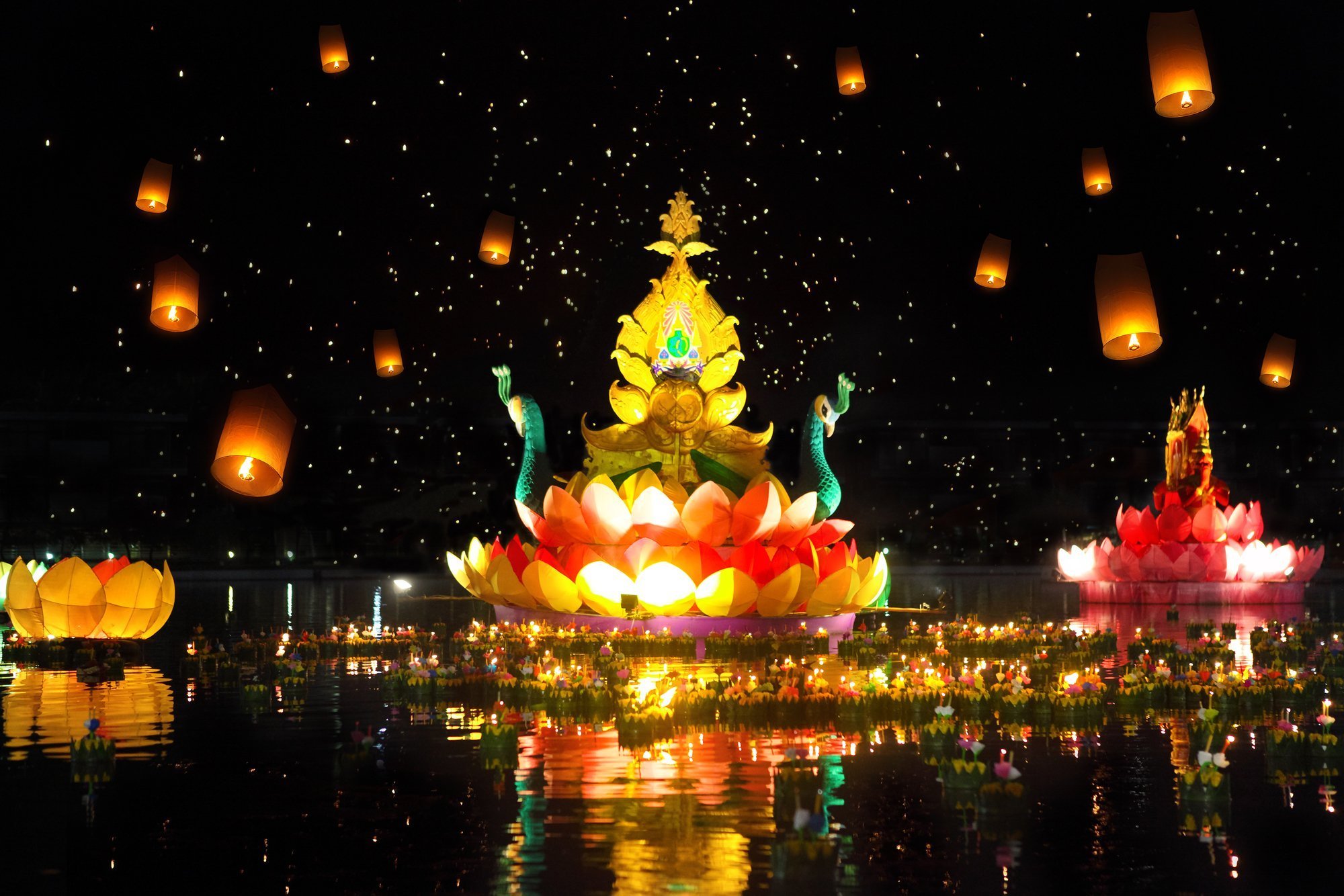 The Loy Krathong festival is held once a year on the night of the full moon of the twelfth month of the Thai lunar calendar. This year it falls on November 11th. If you are visiting Bangkok Loy Krathong is a "must-see" spectacle that will leave a lasting impression of Thailand's culture & will become a cherished memory.
What is the meaning of Loy Krathong?
On Loy Krathong day local people head for a local waterway to float their Krathong as a way of paying respect to the goddess of the water. Money in the form of a banknote or coin is placed on the Krathong for good luck. Strands of hair & fingernail clippings are also sometimes added as a symbol of abandoning negative thoughts. A wish is made as the Krathong is launched. It is believed that if the Krathong floats away it will take bad luck & misfortune with it.
What is a Krathong?
A Krathong is a lotus-shaped float usually made from banana leaves & decorated with candles, incense sticks & flowers. More eco-friendly are krathong made from bread as they are biodegradable and can be eaten by fish. A coin or banknote is usually placed on the float as it is launched. The word 'Loy' means to float.
How to make a Krathong
Many people make their own Krathongs often reflecting their wishes for the coming year & there are workshops at some venues where you can design & make your own Krathong. Check out this video showing how a Krathong is made.
How much is a Krathong?
You will find Krathongs for sale on the street & outside venues. Prices depend on the size, decoration & exclusivity of the design. Expect to pay anything from 40 to 100 baht. Most stalls selling Krathongs display a fixed price.